Project planning is critical for it affects everyone in your building/organization; Continuous Improvement Tips (CITs) will help you avoid tragic mistakes in the upcoming year.
Reoccurring problems are often indicators of other issues; therefore, they must be resolved so that they do not reappear.  Symptoms and underlying cause of problems must first be discovered.
When a problem arises, such as poor maintenance or low level of cleaning in your building that affects the overall appearance as well as the health and productivity of your building occupants employees, simply ask "why" (5 WHYs) until you reach the cause which will lead to a solution (e.g., poorly paid and untrained workforce do not have proper equipment/supplies)
The CITs technique is simple and effective for any business model: PLAN, TEST, DO, REVIEW:
PLAN:
Create Goals: Process and Procedures outlined in the scope of work
A Project Plan: (An example is a Cost Bidding Sheet for transparency of vendors; receiving repeatedly poor service in your building may be a result of very low wages being paid to the employees who work in your building, resulting in poor performance and high turnover).
Ability to define how to measure successful performance (new or improved process of service).
TEST:
Set acceptance standards in advance – What is "good enough?" … as an example, no spots on carpet, no visible dust?
Testing methodologies include, but not limited to: Surveys; periodic inspection walk- through (MBWA – Management By Walking Around).
DO:
Keep measuring – your measurement system should align with your key measures defined in your plan such as the scope of work
Commit to being firm – keep engaged and focused on the plan in place and make everyone involved live up to the performance promised.
REVIEW:
Identify and document feedback.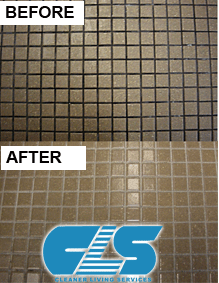 Create 100% commitment by continuing to question the process:
What was supposed to have happened (high-gloss floors, clean/healthy overall appearance, such as these before/after examples)
What actually did happen?
Why did it happen/not happen (i.e.building still does not appear clean because janitorial staff lacks proper training; building occupants frequently sick because surfaces are not sanitized properly?)
What was learned and what can be done to improve a better decision next time?
Since inception in 1985, Cleaner Living Services has implemented Continuous Improvement techniques that differentiated ourselves from other cleaning companies and helped us build a strong brand through continually asking the "WHY" and "HOW" in our business:
Why: While others seek to seize all opportunities in the commercial cleaning market, CLS has developed a brand for delivering high quality cleaning in the suburbs of Chicago to owner occupied buildings who are very concerned about the appearance and cleanliness of their building.  CLS is a privately owned, local cleaning service that is grateful for building owners who are loyal to our brand.

HOW:  Training our employees on always improving our Process and Procedures . Our business involves learning how to better remove dirt from the indoor working environment.  Therefore, our equipment must be the most efficient available; for example, our Windsor Versamatic vacuum cleaners pickup particles that are .03 microns in size (picture of the vacuum)
Cleaner Living Services, Inc. has a unique perspective of focusing on long term partnerships with building owners/managers to help them make lasting first impressions.
Do not make a tragic decisions in 2016, but focus on making a decision today that will be tomorrow's legacy.  Please call Susan Popovic at 630-816-0300 to learn about the many benefits you can experience in your building.