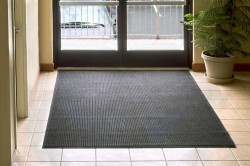 It's time to prepare your facility for the winter months and the wear-and-tear that snow, ice, and rain can bring to your interior.
Your floor is the most significant piece of real estate in your facility.  It is the first impression when people walk through the front door and the area that typically takes the brunt of rough winter weather.
Matting
The first line of defense is proper matting at all entry points.  Often we see buildings with inadequate matting or poorly positioned matting.
According to the Carpet and Rug Institute (CRI), an office building should have at least 12 to 15 feet of entrance matting, while a grocery store of hospital should plan on up to 20 to 25 feet.   Keep an eye on your matting and replace it as soon as you notice any wear or curling.
 Cleaning
We step-up our cleaning schedule during the harshest winter weeks, as removal of tracked-in salt is imperative in maintaining your floor surfaces. Additionally, we clean our equipment more frequently,  increase vacuuming, switch out solutions in buckets and change mop heads more frequently as there is more residue and debris during winter cleaning.  We make sure the cleaning solutions we use are effective in salt removal from carpets and surfaces.
Floor Finish
This is the time that we recommend additional attention to hard surfaces to protect them from winter wear. In many facilities, an extra layer of finish provides an additional degree of protection but not all floor surfaces will benefit from extra finish.  We can provide a complementary audit of your floor surfaces and provide a winter recommendation based on our findings.
Reducing Illness
This is a good time to stock-up on hand sanitizers around the building in preparation for flu season. Make sure there is a dispenser at the doors into the facility and at the reception desk.