No Buffing.  No Maintenance. No Kidding.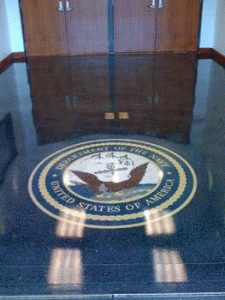 You may have heard about it.  It's the floor finish that requires no buffing and no maintenance for up to five years (according to the manufacturer) without losing its high gloss, clear coat, and brilliance.
It's called Gloss-Tek, and we've been applying it for years on all types of floor surfaces, saving our customers thousands of dollars in maintenance costs.
Over five years, it is estimated it will save you approximately 35% over conventional floor finishing products.
CLS has years of experience in applying the revolutionary GlossTek floor finish to all types of floors including VCT, Vinyl Sheet, Terrazzo, VAT, Concrete, Ceramic, and more.
Our customers have literally gone for years without having to spend money on regular maintenance because this product and the application process provides a finish that is truly unbelievable.
The benefits include:
Reduced Costs – No burnishing, buffing or spray buffing. Highly resistant to scuffs, spills, asphalt walk off from parking lots, ice melts, salt, and much more.
Reduces re-application – Virtually maintenance-free, GlossTek dramatically reduces scrub and recoat frequency. Superb chemical, abrasion, stain and UV resistance (does not yellow).
Sustainable and Green – GlossTek is eligible to count towards your LEED green credits.
Improved Floor Appearance – Better looking floors, all the time. GlossTek "evens out" the never-ending floor appearance cycle by providing a long lasting, like-new finish that lasts much longer than conventional finishes.