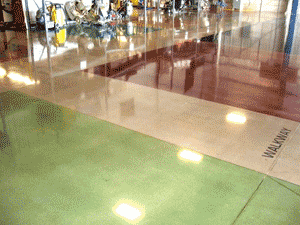 A polished concrete floor can mimic the finest stone surface with the proper polishing techniques and staining.  There are many advantages to polished concrete.
Choice of Color and Patterns
You can choose nearly any color and creates practically any pattern with the array of stains and embedding options available today.
Reflectivity Choices
By using different levels of concrete polishing, you can achieve different levels of reflectivity. From a super high gloss to a more muted matte finish, the level of reflectivity is yours to decide.
Hard, Durable Surface
For many commercial applications, a polished concrete floor is the perfect solution .. for example, in  automotive service departments, warehouses, and manufacturing plants.
Savings in Maintenance Costs
After the proper polishing and treatment, it is relatively easy to maintain polished concrete with regular dust mopping and occasional use of a cleaning product.
To explore the advantages of concrete polishing for your commercial application and the maintenance savings it can garner, contact Cleaner Living Services in Lisle, IL.